New Years Resolution #1: attend more webinars.
Back in 2018 the team behind NACO Academy developed a webinar series called QuickFires. QuickFires are for new and experienced Angel investors looking for easy-to-access education conducive to a busy schedule. With all the buzz surrounding the series, the team at NACO will be working towards growing the QuickFire library and providing more QuickFires in 2019!

The focus of NACO QuickFires is to make similar content that's offered in NACO Academy available in quick 40-60 minute webinars. NACO Academy is developed in collaboration with industry leaders; NACO Academy provides workshops, guides, and other educational resources to Angel investors across Canada. Participants of NACO Academy benefit from hands-on learning from industry leaders to increase skills and knowledge to improve Angel investing outcomes. To learn more about NACO Academy, click here.
Since starting the QuickFire series, we've covered a number of topics including:
Creating and Differentiating your Personal Brand as an Angel
Blockchain: Adding Value vs. Increasing Valuations
Super Angels: The Evolution of Startup Financing
The Business of Cannabis

and much more!

Each webinar includes a panel of industry leaders discussing the pre-determined topic and moderated by CEO of Brightlights, Mike Fox.

"For over 25 years I have advised high growth tech firms on how to get the best out of their people and how to find great leaders with fit and grit. There's simply never a day that's the same."

Attendees can register ahead of time and participate in the LIVE QuickFire. All QuickFires are recorded and uploaded to our website within 24 hours of the LIVE webinar. During the LIVE QuickFire, attendees have the opportunity to ask our panelists and/or moderator questions.
As we develop the 2019 QuickFire schedule, we want to know, what topics would you like us to discuss? Please email us at academy@nacocanada.com with your suggestions.
Our latest QuickFire Webinar was in November titled "From Angel Investment to Public Markets". We had Menashe Kestenbaum, Founder and CEO of Enthusiast Gaming and one of his first Angel investors, Jason Nagy on the panel. They discussed the successful journey they embarked on together from initial investment to the public stock exchange.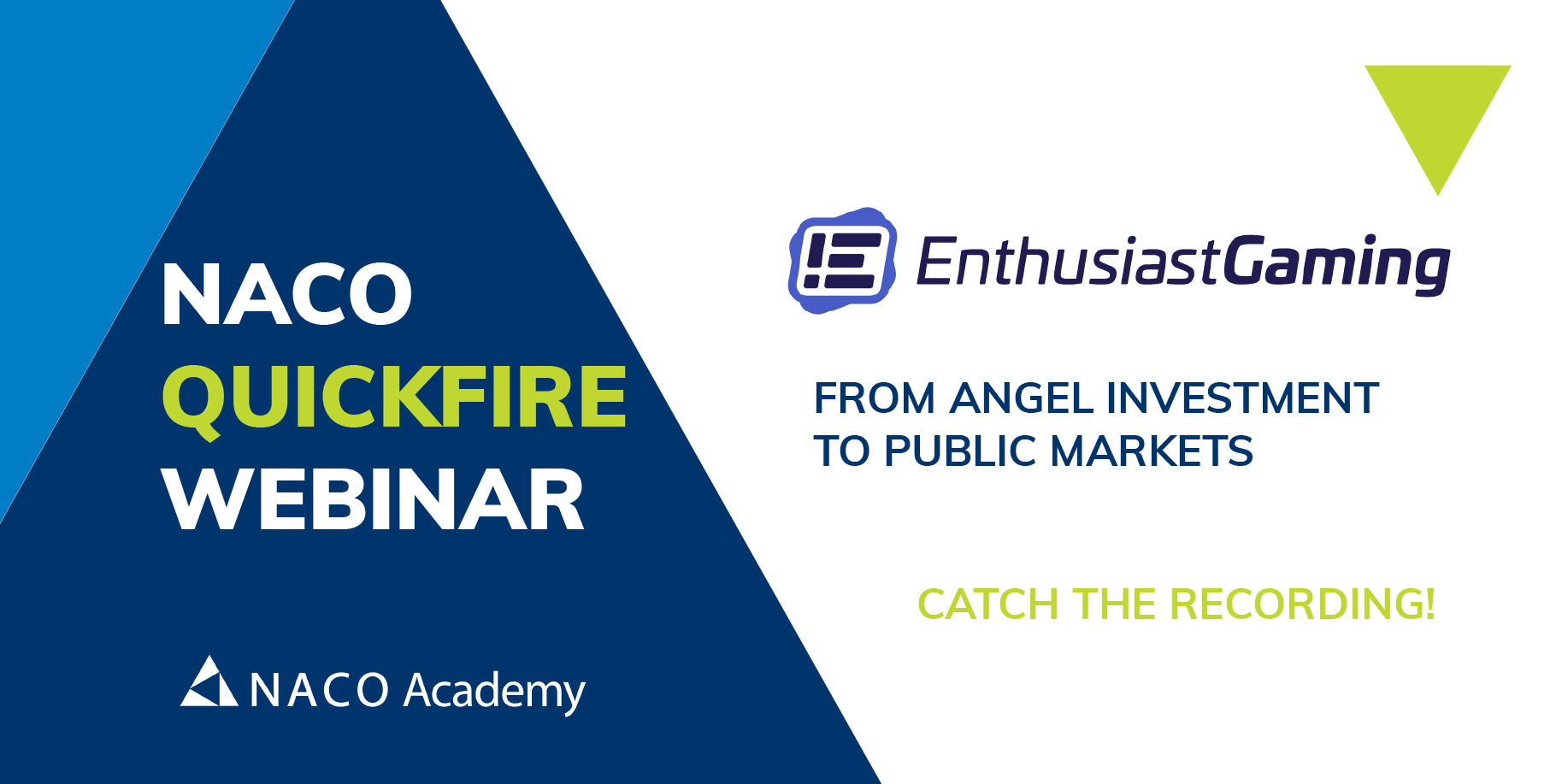 Image Credit: Photo by Alex Knight on Unsplash