We are counting down the final weeks before the 2019 NACO World Angel Investment Summit in Calgary. Continue reading for more information on what to expect from this years Summit, the flagship event for the Canadian Angel Investor community.
The team at NACO is excited to fly out to Calgary in a few weeks, to deliver three days of premium content. What will those three days look like? Here are some highlights attendees can prepare for. Speaking of how to prepare... at the end of this blog we've included a FREE-to-download "what to pack" list, so attendees are ready to experience WAIS 2019! We've also included a note from our outgoing CEO, Yuri Navarro.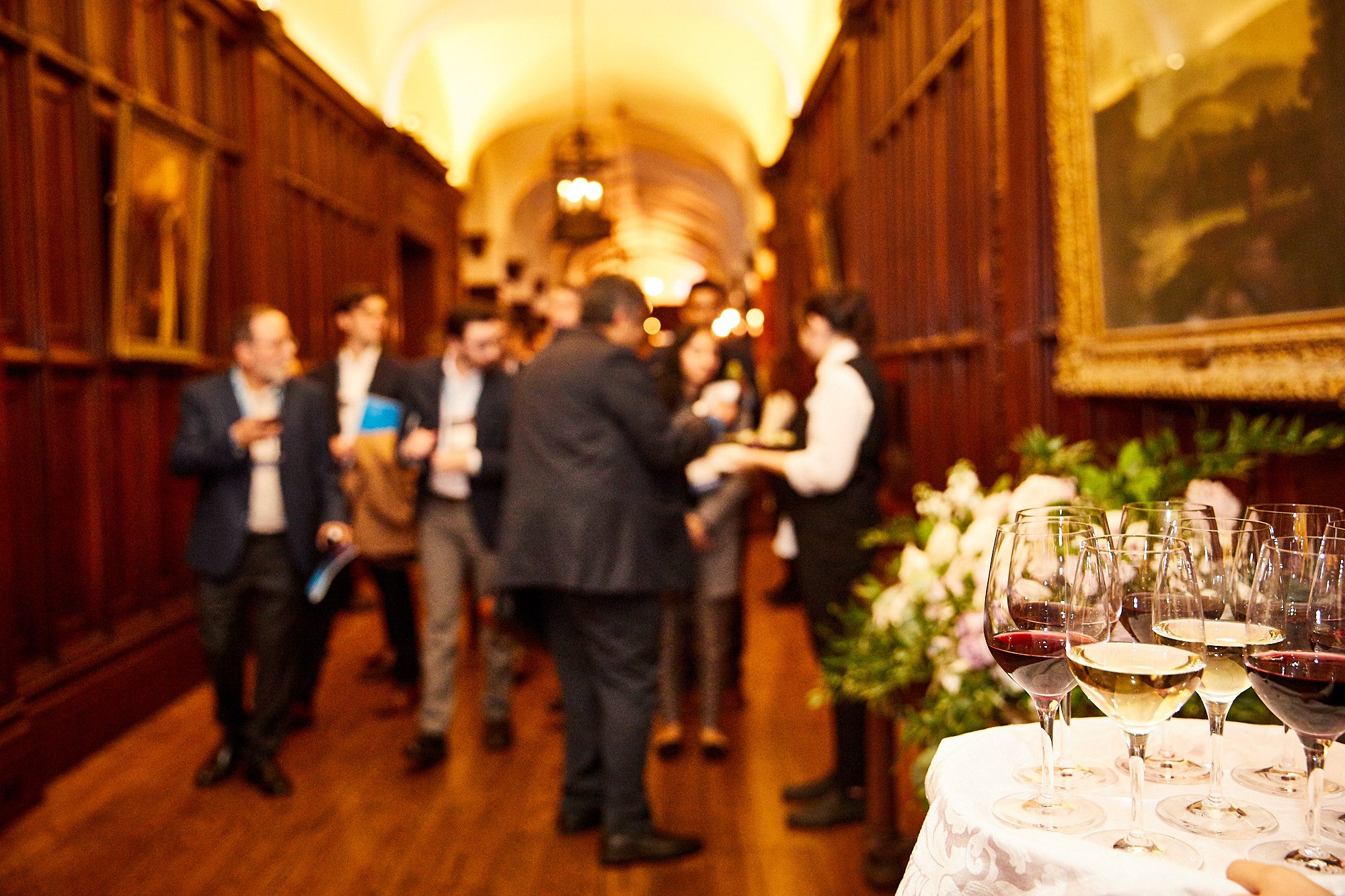 Photo by 2018 NACO Summit Photographer Cedric Swaneck
First we'd like you to prepare your travel arrangements! We have a hotel block at the Calgary Marriott Downtown Hotel, the last day to book is May 17th so please make sure to place your booking before then. The special Group Rate is available between Saturday, June 2, 2019 and Monday, June 8, 2019. Click here to book your hotel in Calgary!

Photos courtesy of the Calgary Marriott.
Also, make sure to book your flight! WestJet is offering all Inventure$ guests some great deals if you book between May 29 and June 15, 2019. Get 5% off Econo and 10% off EconoFlex and Premium fares for all travel within Canada. Get 2% off Econo, 5% off EconoFlex and 10% off Premium base fares for all Trans-border travel into and out of Calgary.Use Promo Code K39FX19 when booking your flight.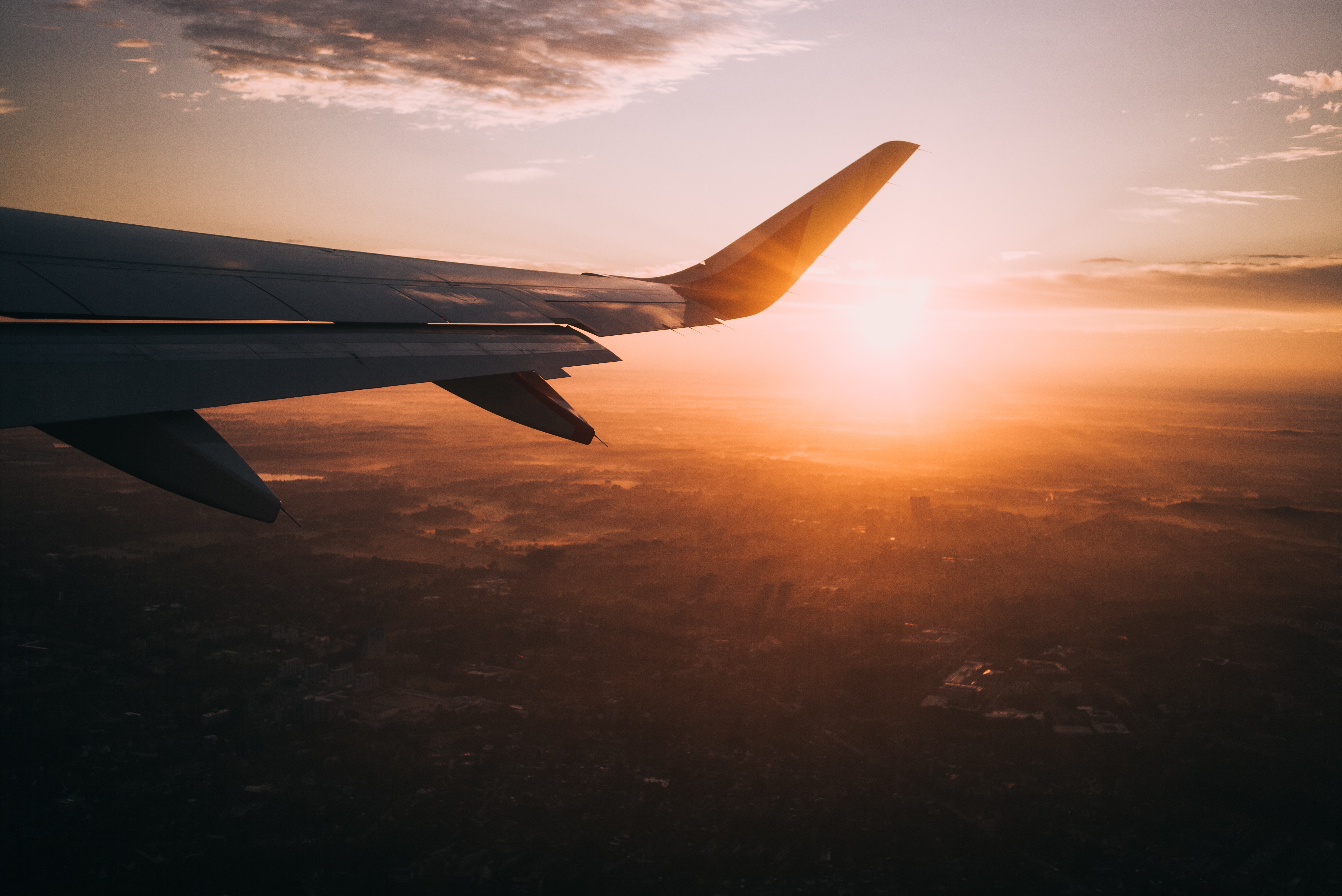 Photo by Nils Nedel on Unsplash
Since you're making all your travel arrangements, let's confirm the arrival date! Our friends at the Angel Capital Association (ACA), the association for Angel investors in America, are hosting a day of content on Tuesday, June 4th, the day before WAIS begins, followed by a half day education session on Wednesday, June 5th. ACA members, accredited investors, and invited community guests from throughout the Pacific Northwest (US and Canada) are invited. Hosted by Valhalla Angels, this series of events is focused on interactive discussions by investors for investors, with June 4th being an Advanced Workshop on Capitalization Tables. You can register to attend their events at their member rate through your NACO Summit registration.
(For at-a-glance WAIS 2019 Agenda, click here)
The following day, June 6th, is the first official day of the 2019 World Angel Investment Summit, with our content running within the Inventure$ Conference. All attendees of WAIS 2019, get free access to the Inventure$ conference, however you have to claim your spot! Once you register for WAIS you'll receive confirmation details to complete your registration for Inventure$.
Registration for WAIS opens at 8:00 am on June 6th, followed by breakfast. NACO will be running content in the Glenn Room at the Telus Convention Centre. The day continues with exciting round tables and keynotes as well as an opportunity for some of the investors to meet with finalists of our Most Promising Startup of the Year award in a "speed-dating" style event. To wrap up the first day of WAIS we're hosting a VIP Welcome Reception Pre-Party with Valhalla Private Capital and ACA. This party is exclusively for WAIS and ACA attendees to celebrate the first day with crafted cocktails, appetizers, and networking before heading to the Inventure$ Connect Alberta Factory Party! NACO knows how to throw a party, so you won't want to miss this.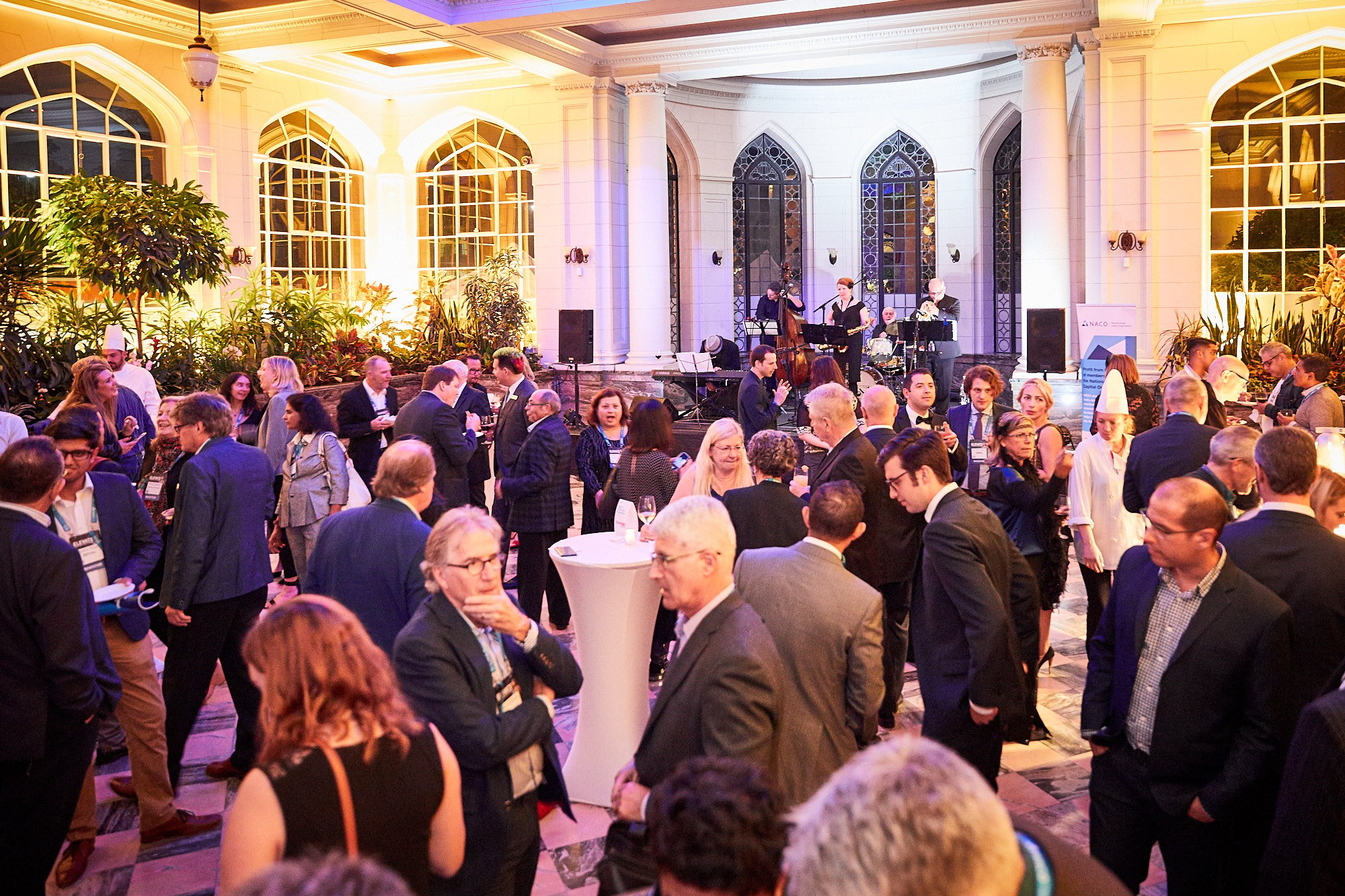 Photo by 2018 NACO Summit Photographer Cedric Swaneck
Don't party too hard, because Day 2 of WAIS begins at 7:30 am, with registration followed by breakfast at 8:00 am. We'll be hitting the stage at 8:45 am with Welcome Remarks that include an exciting announcement about NACO! You won't want to miss it. Then the first Keynote takes the stage, Marcos Lopez, CEO of Calgary-based Solium which recently sold to US bank Morgan Stanley for just over $1 billion. The rest of the day will proceed with premium round-table discussions. This year at WAIS we're changing up our regular speaker panel set-up for round-table discussions to provide our attendees with the opportunity to ask questions and engage in in-depth dialogue with our experts. These sessions are based around 3 sub-themes: Innovative Financing which includes sessions on investing in innovation, best practices for structuring deals, and due diligence; Investing Beyond Capital talking about supporting and providing additional value to portfolio companies and how Angels can access some of the best deals; and Building Returns for the Next Decade, covering how the investment landscape is changing, the lifecycle of your investments and ultimately getting to returns. These are reflective of not only our ecosystem in Canada but also consider the larger global ecosystem. Half way through the day we'll break for lunch where we will hear from Rachel Mielke, CEO of Regina-based Hillberg & Berk, which boasts a global supply chain that sets them apart from other jewelry companies and has even custom-designed pieces for the Queen and showcased at the Oscars.
The final session of Day 2 will wrap up by 4:30 pm, leaving attendees with an hour to prepare for the evening activities! Our Annual Awards Dinner Gala will take place on Thursday night with a pre-gala reception starting at 5:30 pm sponsored by Alberta Innovates. The Awards Dinner Gala will follow, starting promptly at 6:30 pm. NACO's Annual Awards Dinner Gala is always an excellent evening with guests enjoying a delicious three-course meal. In addition we get to celebrate the award winners for: Angel Investor of the Year, Exit of the Year, and Most Promising Startup of the Year and recognize the success of our community. We're excited to have Bruce Croxon join us for the evening, a digital pioneer who co-founded Lavalife and built it up to 2 million users leading to an exit of $180 million. He now leads Round13 which is dedicated to investing in growth-stage digital companies like Sprigg Software and RoundAssist. For more information on the evening, check out this Blog post. We will continue the celebrations into the evening with a party to celebrate our ecosystem and connect with one another.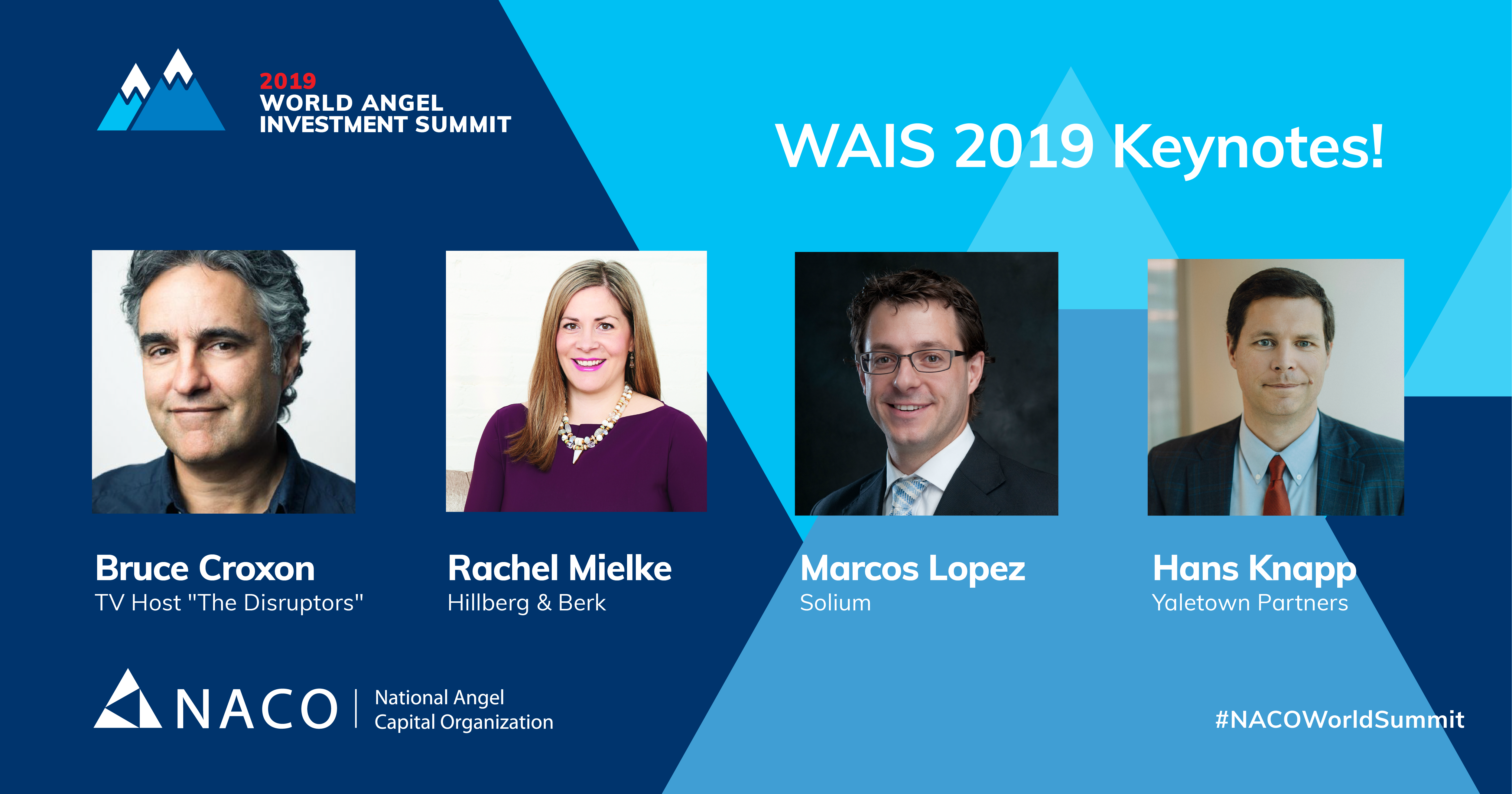 Photo by 2018 NACO Summit Photographer Cedric Swaneck
Before you know it, we'll be starting the final day of WAIS 2019! You won't want to miss our morning speaker at 8:30 am, Colin Mason who will be delivering the latest trends and statistics on Angel investments in 2018, as he releases our 2018 Angel Activity Report. We then dive into the core of our ecosystem with 4 streams of content: Angel Investment Basics, Super Angels, Angel Funds, and Accelerators & Incubators. This will lead to an interactive engagement session where YOU have the opportunity to let us, NACO, know what your challenges are and provide us feedback, directly to our new CEO, Claudio Rojas who will be there to hear you out. Our formal programming wraps up with a Keynote from Hans Knapp, Co-Founder and Partner at Yaletown Venture Partners. Hans was one of the first investors in the very successful Daiya Foods which was awarded Exit of the Year at our 2017 Summit. We're looking forward to Hans sharing his story of going from Angel investment to successful Exit. After lunch we'll be concluding the final day with two NACO Academy education sessions! You can pre-register for the session of your choice when you complete your registration for WAIS.

The two session available for NACO Academy starting at 12:30 pm are:
NACO Academy: How to Launch an Angel Fund. This session covers the components and considerations when setting up an Angel Fund, the operations of a fund and potential issues or challenges. Your instructor will be Pieter Dorsman.
NACO Academy: Adding Value Through Due Diligence. This module introduces students to the key investigations that will uncover major risk factors and potential deal-breakers. The module emphasizes how to identify the most critical information, the risks of not knowing it, and the methods and costs of getting it. Your instructor will be Kirk Hamilton.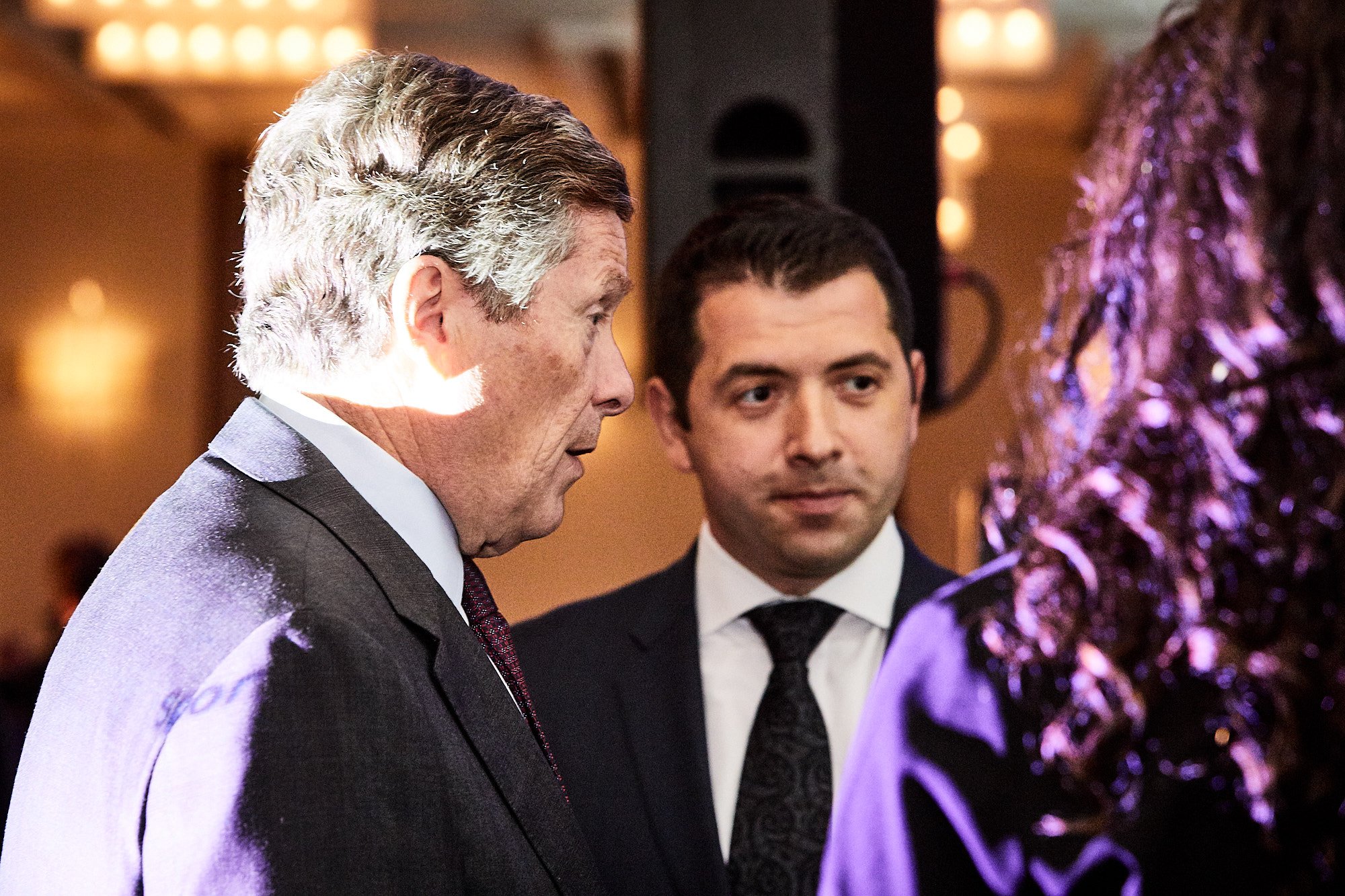 Photo by 2018 NACO Summit Photographer Cedric Swaneck
This is an exciting year for the team at NACO. Our outgoing CEO Yuri Navarro will be in attendance and speaking at this years Summit!
"After seven years at the helm of NACO, I've had the chance to witness the exponential growth of our member community of Angel investors, groups, and funds, and the expansion of our mandate to support the important work of incubators and accelerators right across Canada. NACO has been my passion for nearly a decade, but I am thrilled to welcome new leadership that can take our community through the next phase of Canadian innovation. Please join me in welcoming Claudio as our new CEO, and in helping him shape the future of our community for years to come!"
We're so excited to host the 2019 World Angel Investment Summit in Calgary in partnership with Alberta Innovates and the Inventure$ Conference. It will be a Summit that you won't want to miss.
To wrap up this post, here's your FREE copy of the official WAIS What to Pack List for you to download and print as you prepare for three days in Calgary!
Header Image Credit: Photo by Jack Carter on Unsplash